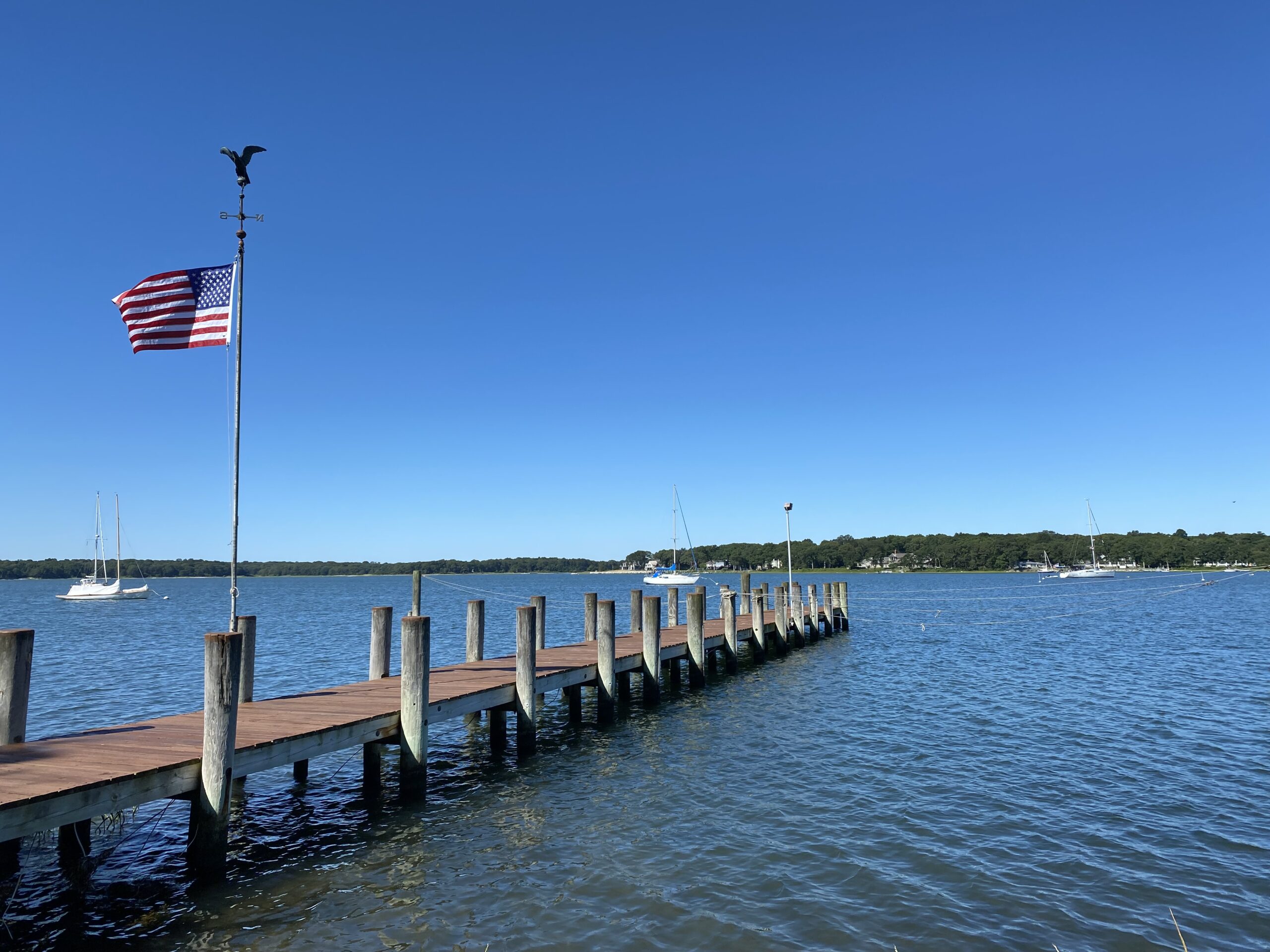 With the summer of 2022 soon to be one for the books, the past three months have been a time to re-acquaint ourselves with cherished activities and re-ignite friendships as we continue to come out of the pandemic. It was also a time for expectations met for many, unexpected turns for others and sharing of diverse opinions about the Shelter Island community.
Although outside the East End the home sale market is showing signs of softening, Shelter Island continues to experience strong closing prices with limited inventory. Although interest rates have risen in recent weeks, the cost of borrowing money remains historically low.
The following are selected transfers:
149 North Ram Island Drive, a 5518 sf traditional on 2.1 bayfront acres with pool, listed 8/6/21 for $10,750 and sold 8/9/22 for $9.7m;
151 North Ferry Road, a 4000sf plantation style home on six acres with barn and pool, listed 11/10/21 for $3.495m, sold 7/28/22 for $3.5m;
78 Peconic Avenue, a 2504 sf traditional on .38 soundfront acres, listed 6/5/22 at $3.25m, sold on 8/2/22 for $3.35m;
14 Montclair Avenue, a 2799sf traditional on .37 harborfront acres with dock, listed 10/21/21 for $3.55m and sold 7/1/22 for $3.25m;
28 Merkel Lane, a 2760 sf contemporary on .62 acres with pool, listed 10/7/21 for $3.499m and sold 7/13/22 for $3.25m;
12 Terry Drive, a 5 bedroom traditional on .5 acres with pool, listed on 6/7/22 for $2.15m, sold on 8/10/22 for $2.35m;
1 Point Lane, a 2370 sf contemporary on 1.4 soundfront acres, listed 3/14/22 for $2.45m, sold 8/25/22 for $2.3m;
87 North Ferry Road, a mixed used commercial property familiar to many as "Bob's Fish Market" on 1.62 acres, listed 1/4/20 and last listed at $2.39m, sold 6/30/22 for $2.05m;
4 Wheeler Road, a 2800sf new home construction on .87 acres, listed 11/1/21 for $1.89m, sold 6/28/22 for $1.845m;
30 Baldwin Road, a 1983 contemporary on .92 acres with pool, listed 6/4/20 for $1.595m, sold 6/30/22 for $1.645m;
19 Grand Avenue, a mixed use building, familiar to many as the Shelter Island Heights Pharmacy, on .10 acres, sold 5/2/22 for $1.5m;
29 Hilo Drive, a 1969 sf colonial on .6 acres with pool, listed 5/9/22 for $1.275m, sold 8/11/22 for the listed price;
5 Emerson Lane, a 1710 sf traditional on .62 acres, listed for $1.199m on 4/12/22, sold on 8/19/22 for $1.1m;
15 South Midway Road, a contemporary on .92 acres, listed on 4/29/22 for $1.125m, sold 8/11/22 for $990k;
39 Stearns Point Road, a 750 sf cottage on .62 acres, sold 6/8/22 for $900k.
The rental market, which began the year with a bang, was the quietest in recent memory when the general public found its mobility, post Covid vaccination. Regular tenants communicated that, instead of vacationing on Shelter Island, they would be traveling to far away places. As a result, many landlords wound up enjoying their rental homes themselves, sometimes for the first summer in years. Many of these same tenants are already making plans to return to Shelter Island for the summer of 2023, so landlords who count on rental income should update their rental listings as soon as possible.
At nearly every gathering this summer, Islanders have been refreshingly open. Opinions have been wide ranging and include: will the increased number of hotel rooms continue to affect local Airbnb business; will the new bigger businesses support the local community during the winter, will the purchase of multiple properties for staff housing have an impact on the already limited availability of starter homes; will the increased assessments to these renovated commercial properties improve the infrastructure on the island and benefit the community long term; will the Town ever consider allowing the rental of existing accessory buildings in A and AA zones to ease the shortage of affordable housing; and will the topic of pesticides ever be introduced to the the discussion about the integrity of the aquifer and runoff into the surrounding saltwater? Whether at a barbecue or at the Post Office, Islanders are sure to have a point of view that is always interesting.
The words of designer Ralph Lauren come to mind this Labor Day weekend, "A lot of hard work is hidden behind nice things." Enjoy the holiday and our beautiful island!