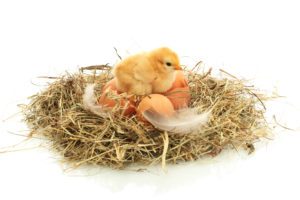 Each year at this time, we all yearn for signs of springtime returning to Shelter Island. Crocuses popping their heads up in late February brought hope only to be dashed by another Nor'easter. Two Sundays ago, I was showing a listing of mine in Dering Harbor Village to a couple who were game to trudge through over a foot of fallen dead leaves to explore the contours of the land. They got ahead of me with their unbridled enthusiasm, and I paused for a minute to listen to the sounds of nature. When we met up later, they caught their breath, and I mentioned the tranquility of the spot, with the only sounds we could hear being returning migratory birds and gusts of wind through the trees. Although heavily wooded, the trees were not at all random, with a few juvenile copper beech trees in one area and a grove of saplings in another area. "What kind of trees are these?" I asked the customers, who seemed knowledgeable with all matters connected to nature, and had discovered Shelter Island on a hike to Mashomack Preserve one day. The husband said he didn't quite know but said they certainly were distinctive, adding that when trees are filled out with summer foliage, one doesn't really notice the details that are right before our eyes in winter and early spring . I took a photo of the bark on one of the trees and said to the wife, "Actually this photo would make a great texture for a handbag, wouldn't it?" We both laughed, and just then, a gorgeous red tailed hawk flew right before our eyes and we ventured back out to the road through the thorny bittersweet.
Homes for sale are very much the same; with each season one observes and appreciates different characteristics—light, sound, color and the setting itself. Since Valentine's Day, there has been good activity in the real estate sector on Shelter Island. Here are some highlights of homes that have closed since February:
1 Sandpiper Road – a 1967 renovated traditional with 2549 sf, 4 bedrooms and Gunite pool on 1.1 acres, listed 5/10/17 for $1.4m, last listed at $1.35m, sold 2/15/18 for $1.275m;
11 Terry Drive – a 2005 traditional with 2600 sf, 3 bedrooms and Vinyl lined pool on .5 acres, listed 2/13/16 for $1.05m, last listed for $999k and sold 2/5/18 for $945k
53 North Midway Rd – a 2001 Farmhouse with 1980sf, 3 bedrooms, pool house with half bath and vinyl lined pool on .5 acres, listed 9/11/17 for $1.05m, last listed for $949k, and sold 2/28/18 for $850k;
45 New York Avenue – a 2005 traditional with 2628sf, 4 bedrooms and water views, listed 4/13/17 for $935k, last listed for $899k, and sold 3/19/18 for $849k;
15 Smith Street – a 1949 bungalow with 1224sf, 3 bedrooms on .85 acres, listed 7/28/17 for $779k, last listed for $699k, and sold 2/21/18 for $640k;
152 North Ferry Rd – a bank-owned property, a 1938 colonial with 1622sf, 3 bedrooms with separate cottage with half bath on 2 acres, listed 1/9/18 for $649k, sold 3/15/18 for $655,250.
143 North Ferry Rd – an 1893 farmhouse with 2106sf, 4 bedrooms on .47 acres, listed 7/4/16 for $795k, last listed for $625k, and sold 3/1/18 for $600k
Similar to the rebirth of nature in springtime, many houses recently introduced to the market for sale were purchased in the last 5-7 years, renovated and are back on the market with sparkling updates. Although it is sad to see owners who have put so much effort into their renovations leave Shelter Island, it is wonderful to see homes reborn for the next owners.